Testimonials
---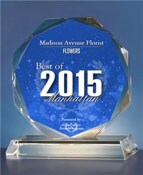 Madison Avenue Florist Receives 2015 Best of Manhattan Award
Manhattan Award Program Honors the Achievement


MANHATTAN July 22, 2015 -- Madison Avenue Florist has been selected for the 2015 Best of Manhattan Award in the Flowers category by the Manhattan Award Program.

Each year, the Manhattan Award Program identifies companies that we believe have achieved exceptional marketing success in their local community and business category. These are local companies that enhance the positive image of small business through service to their customers and our community. These exceptional companies help make the Manhattan area a great place to live, work and play.

Various sources of information were gathered and analyzed to choose the winners in each category. The 2015 Manhattan Award Program focuses on quality, not quantity. Winners are determined based on the information gathered both internally by the Manhattan Award Program and data provided by third parties.

About Manhattan Award Program

The Manhattan Award Program is an annual awards program honoring the achievements and accomplishments of local businesses throughout the Manhattan area. Recognition is given to those companies that have shown the ability to use their best practices and implemented programs to generate competitive advantages and long-term value.

The Manhattan Award Program was established to recognize the best of local businesses in our community. Our organization works exclusively with local business owners, trade groups, professional associations and other business advertising and marketing groups. Our mission is to recognize the small business community's contributions to the U.S. economy.

SOURCE: Manhattan Award Program


---

Tom –

I had to take a moment this morning to tell you how spectacular your arrangements were on Friday night. The group we hosted was a virtual who's-who of the Pennsylvania Society and they were just raving about how beautiful the flowers were. The space at the National is wonderful but the addition of your florals simply pulled the entire room together. They brought a certain warmth to the evening and though not directly holiday related, lent themselves perfectly to the seasonal decorations.

Fantastic job! Thank you helping make this a memorable night.

Kat
Assistant Vice President
Event Project Coordinator
Corporate Events
Strategic Communications

Citizens Bank I Charter One I RBS Citizens



---
Hi Tom,

Just wanted to send a quick "Thank You" for you exceptional customer service and willingness to help. My colleague Allison Burk contacted you last week to have flowers sent to a very important client I had met with in New York. After uncovering the flowers were never delivered (by the hospitals negligence) Allison informed me you were so gracious and accommodating to resend them at no charge. As someone in the service and hospitality industry, I just wanted to send a big Thank You and let you know we greatly appreciate your help.

I'm sure the flowers were just lovely and I certainly keep you front of mind for any further flower needs to clients in New York.

If you would like me to submit an online review on any particular website, feel free to let me know and I'd be happy to do so!

Merry Christmas and thanks again :)

Kind Regards,

Bekah
---
Dear Tom,

I want to thank you for your great hospitality and flower arrangements. They
were designed beautifully and look great. I just wanted to extend my thanks to
you and Sagent looks forward to continue doing business with you in the
future.

Thanks,
Anna
---
Hi!

I hope that all is well with you. I recently placed over a dozen orders with teleflora.com and selected your store to send them because I use to pass it all of the time and it looks so cute. I've gotten a lot of emails from the fashion editors I sent them to telling me how gorgeous the flowers are. I just want to thank you so much. You'll definitely be getting my business again!

Joyce Huang
PR and Marketing Director
---
The plant you delivered this morning to Jocelyn Keynes at Halperin law office
was really nice. You kept your word!! :-)
Thanks so much

Inez
---
Dearest Tom,

We cannot thank you enough for the amazingly beautiful flowers you put together for our wedding. People can't stop talking about how perfect the bouquets and centerpieces were. The bouquets complimented the dresses so very well. The centerpieces were breathtaking. The colors blended to make a sophisticated elegant style.

We will be sure to send some pictures soon.

Warm regards,
Kate and Jim

Ps The orchids are still alive and thriving......

---
Dear Tom,

The flowers arrived and they were drop dead beautiful.

Thank you.
Ursula Hugo Boss
---
Dear Tom,

I saw pictures of the arrangement. It was absolutely gorgeous. Thank you!

Thanks! Best regards,
Debbie Stanley
---
Hi Tom,

Thank you for the arrangement. It was gorgeous and our CEO loved it. Thanks so much.

All my best,
Natasha, Circa Jewelry
Thanks so much Tom. You guys are the best!
Rebecca loved the arrangement with the vibrant colors. Very best,
Chona
---

Thank you so much for the gorgeous flower arrangement, Tom! Masterful work.
Best,
Sun Singleton
---

Hello Tom –
I wanted to drop you a line to tell you how beautiful the flowers were on Friday night. We got so many compliments on them. Truly outstanding work.
You made us look like a million bucks!
Here's to partnering with you again in 2016!
Have a pleasant holiday and a prosperous new year!

kat
Event Project Manager
Assistant Vice President
Strategic Communications
Citizens Bank
Best,
Sun Singleton